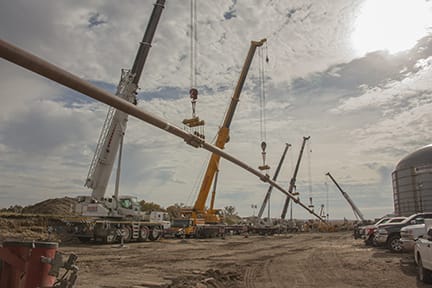 WBI Energy Project Receives Award for Impressive Horizontal Directional Drill
WBI Energy's North Bakken Expansion project recently was named the Project of the Year for New Installation by Trenchless Technology magazine. WBI Energy's project included a 15,426-foot, 24-inch horizontal directional drill crossing Lake Sakakawea in North Dakota at a depth of more than 300 feet.
The HDD was bored from both sides of the lake, using an intersect method in the middle.
"It's a really impressive aspect of the project," said Jeff Rust, executive vice president of operations for WBI Energy. "To have our contractor, Michels, bore more than 300 feet below the lakebed and approximately a mile and a half from either side, meeting in the middle, and then pulling our 24-inch pipeline through the borehole, was a significant accomplishment."
WBI Energy's North Bakken Project involved constructing approximately 100 miles of new natural gas pipeline, including nearly 63 miles of 24-inch diameter pipeline, as well as compression and ancillary facilities in western North Dakota. The project connected WBI Energy's existing Tioga Compressor Station with the new Elkhorn Creek Compressor Station, constructed south of Watford City. The project was placed into service on Feb. 1, 2022, and transports up to 250 million cubic feet of natural gas per day.
Click here for Trenchless Technology's October 2022 magazine edition.